How to fix 'Bad Pool Header' error
Bad Pool Header error is a blue screen error that arises if the system detects critical malfunctioning. This error notifies the user about a problem connected with memory use and says 'Windows has been shut down to prevent damage to your computer'. Simply defined, the error is a defense mechanism responding when anything, no matter what - hardware or software, tries to do something wrong to the memory. Windows stops working and displays the information on a blue screen as known as the blue screen of death.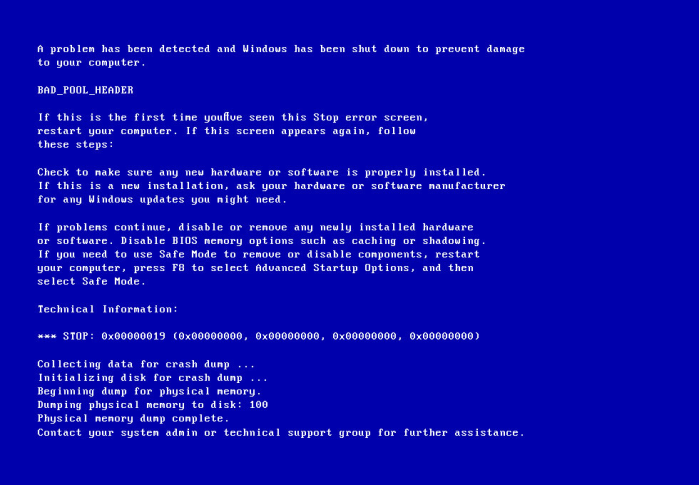 The main causes for seeing the error include:
Faulty device drivers
Corrupted registry entries
Hard disk injuries
RAM issues
System files malfunction
Software problems
Get rid of error - Security Stronghold security team has developed your problem's solution!
Here you will find complete and fastest solution for fixing Bad Pool Header error
Download Repair Wizard

to fix Bad Pool Header error
Fix Bad Pool Header error manually
Restart Windows

Sometimes the blue screen is just a glitch of the system, so rebooting might get everything back to normal. If the problem is still here, you shall need to take more complicated measures listed below.

Check RAM
Initiate the search for memory
In the result find Diagnose Your Computer's Memory Problem
A click on it It will start the scanning and fixing
Check disc driver
Open My Computer
Right-click the hard drive
Choose Properties
Go to the Tools tab
Click Check Now
Update the drivers and system
Initiate the search for update
Click on Windows Update
On the left panel choose Check for Updates
In the appeared list you'll see available updates
Check the boxes with the drivers you would like to install
Click OK
This will update the system as well as the basic drivers, as their maintenance is included into update packages.
Undo recent changes
If you have recently installed new software, go to the Control Panel and remove it. Some of the programs may conflict with each other and lead to Bad Pool Header error. Pay attention to antivirus/antimalware programs to make sure they are compatible with your system.
Stop Indexing Service
Press Win+R
Type services.msc and hit Enter
In the shown list find Indexing Service and right-click it
Choose Properties
Set Manual or Disabled as the Startup type
Click OK
Disconnect external devices
Hardware can also be a ground for causing Bad Pool Header error. To see if it's true unplug all devices from the PC, leaving only the mouse and keyboard. Then reboot the system to check the result.
Restore the system
This solution goes as a nuclear one, and should be applied to only if all the above mentioned steps haven't had any effect.
Open the Control Panel
Change the view to Icons
Click on Recovery
Click on Open System Restore button
Follow the on-screen wizard steps